November 2013: The Telegraph, Word of Mouth - Wildes Cheese A London Micro Dairy     
April 2014: The Guardian – Meet the Urban Cheesemaker
December 2013: My London: Philip Wilton of Wildes Cheese 
May 2013: Foodepedia.co.uk Blessed are the Cheesemakers http://www.foodepedia.co.uk/articles/2013/may/wildes_cheesmaker_tottenham.htm
February 2013: The lovely Jellied Eel Magazine has 2 pieces on us this month
A whole Feature! by Kirsten Foster and a piece in the About Town section.
Wilde about urban cheese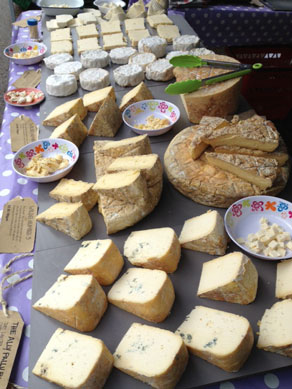 In our latest issue we highlighted a new 'microdairy', just opened in Haringey.  Here, Kirsten Foster chats to the man who was crazy enough about cheesemaking, and about living in the capital, to try and combine the two.
You'd have to be crazy to look around a Tottenham industrial estate and think 'What a great place to make cheese!' Luckily, Philip Wilton, the nutty cheesemaker behind North London's newest microdairy' is indeed crazy; crazy about cheese and crazy about his beloved London. He couldn't imagine making his Wilde's Cheese, a seasonally shifting range of genuinely artisan cheeses, anywhere else.
Read the whole feature.
The urban cheese maker N17 (from the About Town section)
Wildes Cheese is a micro-dairy based in Haringey producing handmade artisan cheese. The cheese uses the best quality milk from cows enjoying themselves in the fields of Rye, Sussex. The pasteurised, un-homogenised full fat milk is from a single herd, which gives the cheese its distinctive flavour, says owner and cheese maker, Philip Wilton. Cheeses are numbered (Wilde's Number 1, 2, 3 etc) and quirkily-named; try 'The Smelly One' (no. 6), 'The Drunk' (no. 5), so-named because it's made with London Pride ale to create the crumbly coat, or opt for the 'Traditional English cheese' (no. 7). As well as making great cheese, they also limit their environmental impact by using recyclable materials. You can find them at Alexandra Palace Farmers' Market on Sundays. To read more about Wildes, and to see our Product Focus on cheese, go to www.thejelliedeel.org, www.wildescheese.co.uk
Haringey blogger: "Discover London's only artisan cheese maker – right here in Tottenham". Article from the Tottenham Journal, by Tara-Lee Platt, published Saturday, November 17, 2012. Read the article here http://t.co/7L4rF1l7 
Wildes Cheese @ Alexandra Palace Farmer's Market by Alan Perkins.
"Wildes Cheese brings the best parts of the countryside to central London by making the finest cheese in their micro-dairy in Haringey. All their produce is made in North East London and they have just started selling their goodies at the weekly farmer's market."

Read the article – http://www.weekendnotes.com/alexandra-palace-farmers-market/